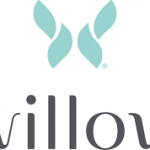 Website Willow
Pumping, Reimagined
Willow is a platform for products that help improve the lives and health of women. We are a mission-driven team of experienced inventors, young mothers, and fathers dedicated to making a difference in women's lives. The Willow™ Wearable Breast Pump is the first solution in our platform. Moms who pump told us that they often need to press pause on life while they pump and that their dream pump would be truly mobile and unplug.  Willow is a complete re-imagining of the breast pump – it is the world's first all-in-one breast pump that fits in a bra.
The Senior Director of Product (Pumping Portfolio) position is a critical role to the organization, responsible for driving the new product launches and supporting existing products to help ensure that Willow achieves the full potential of our mission: Bringing joy to motherhood. This role sits at the forefront of defining the vision for Willow's breast pump product portfolio and their connected apps. You will connect the Willow Mission and Vision to the Willow Pump Product Strategy and create, manage, communicate, and ensure execution of the associated physical and digital product roadmaps.
You must have a deep empathy for the customer (moms), excellent communication skills, and experience building and managing high performance and data-driven teams. The ideal candidate is able to understand the technical challenges and feature trade-offs as well as the product financials and business case. You have a deep love for working in a fast-paced growth company environment and are comfortable with rolling up your sleeves to contribute in any capacity required. You will be deeply connected to and motivated by our mission and be a critical member of the product leadership team.
What You'll Do:
Consumer-oriented product vision and strategy: You will develop a deep understanding of the breastfeeding mom's journey and her needs associated to pumping/nursing and transitioning into motherhood and convert that knowledge of user needs into product strategy, product roadmap, product definition and product features.
Product definition: You will lead product development for existing products and creation of new products from concept to commercialization. You will ensure that the full system – pump/accessory hardware, firmware, mobile app/cloud/data meets user needs and is designed to enable growth and new feature development.
Innovation: Identify and cultivate consumer insights. Study, adjoining spaces / products and lead on opportunity identification, business case development, and product strategy development.
Leadership: You will work collaboratively with cross-functional teams, including Project Management, Marketing, Customer Care, Hardware, Firmware & Software Engineering & Clinical/Regulatory/Quality. You will communicate multi-directionally to executive management and to engineers, highlighting organization and business needs.
 What You'll Bring:
Deep experience: At least 10 years' experience in product development (ideally at least 5 years with software), from ideation to launch to scale.
'Multiplier' of talent: You make everyone around you better by understanding their strengths, setting high expectations and supporting the team to achieve their best. You are comfortable hiring and motivating people, and have a knack for organizational structure
Art & Science: You balance blue sky and analytical thinking – you are able to think and dream big with your team, but you're also on top of the data and metrics and use them thoughtfully and efficiently to inform excellent decisions and prioritization
Extraordinary communication skills: You can represent Willow internally and externally, and create energy and enthusiasm for the work we're doing and our amazing potential
Passion: You are deeply passionate for what we do at Willow – bringing joy to motherhood. You energize and motivate others around you.
Consumer Obsession: Your ability to identify actionable consumer insights. ideate solution based opportunities for products and deliver high-quality & innovative products to market.
Minimum of a Bachelor's degree in a technical or marketing discipline.
MBA beneficial in this role.
Experience in medical devices, awareness to critical safety and regulatory hurdles a bonus.
Local candidates only