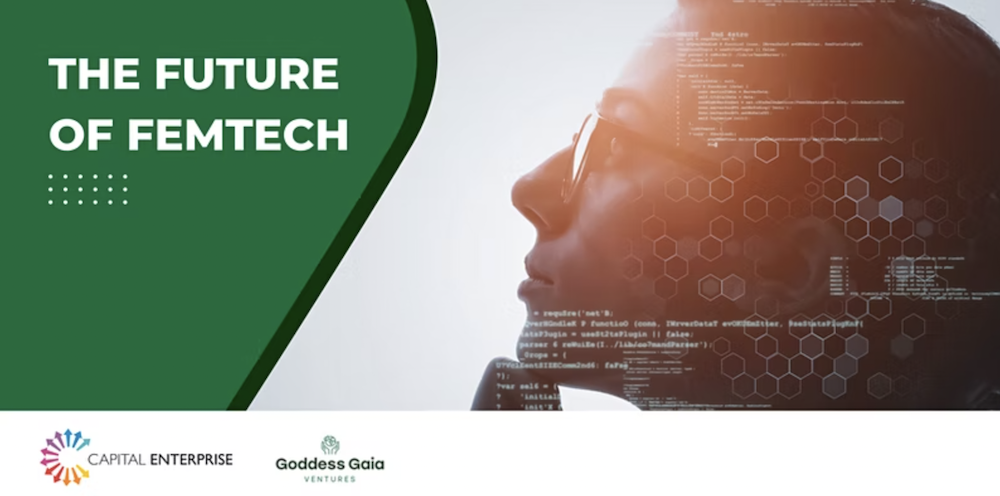 The Future of Femtech
231
231 people viewed this event.
An evening talk event co-hosted by Goddess Gaia Ventures (GGV) and Capital Enterprise on the future of female health innovation.
Agenda
A discussion on the state of female health technology and what is next on the investment landscape.
18:00 Registration
18:30 "Introduction of Femtech" by Capital Enterprise & GGV
18:50 Panel discussion: "What is next in Femtech?" Macro trends and opportunities through the eyes of the founders and industry experts. The full list of speakers to be confirmed shortly:
Laura Towert (Vivantx) – Speaker
Pahini Pandya (Panakeia) – Speaker
Anya Roy (Syrona Health) – Speaker
Kathrin Folkendt (Femtech Insider) – Speaker
Priya Oberoi (GGV) – Moderator
Nathan McNally (Capital Enterprise | P4 Precision Medicine | GGV ) – Moderator
19:45-20:30 Networking
About Goddess Gaia Ventures (GGV)
GGV is a female founded venture capital firm. We are building Europe's first women's centred healthcare fund investing in female-centred healthcare tech, products, services and devices that improve women, female, and girls' health and wellness. This includes innovations that solely affect women like the menopause, disproportionately affect women like autoimmune diseases and differently affect women like heart disease.
Through our pre-Series A investments within health, wellness and Femtech categories, we will invest in founders who want to build extraordinary companies that will be impactful and change the world.
About Capital Enterprise
Capital Enterprise is a body of connectors, influencers, investors and policy-makers, collaborating to support and super-charge the UK's start-up scene. We are the UK's start-up experts, connecting & energising a world-class entrepreneurship ecosystem.