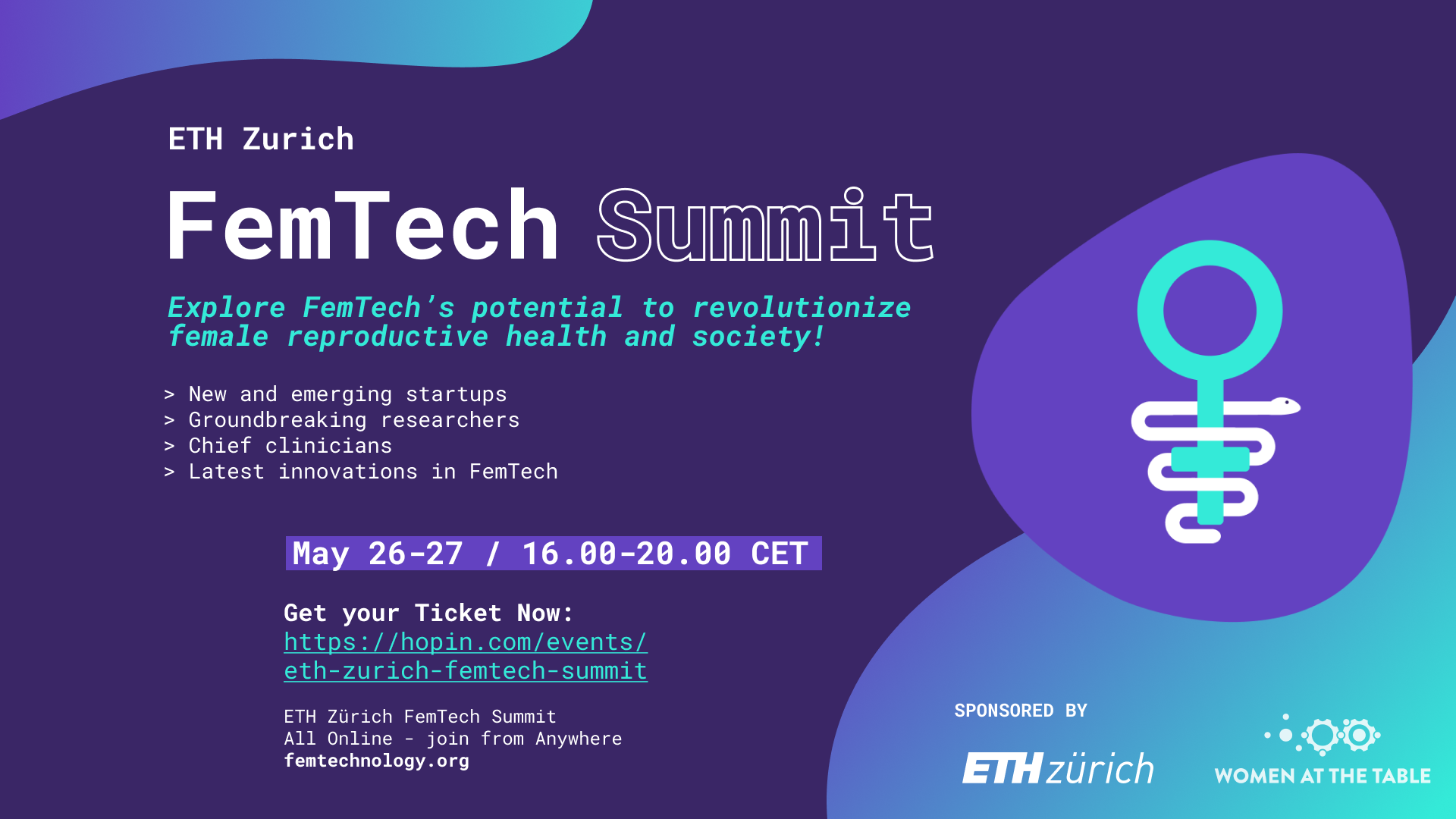 ETH Zurich FemTech Summit
309
309 people viewed this event.
Throughout history women have been considered 'aberrations' from the norm, rather than a crucial + vital part of the population to be included in medical trials and long-term studies.
This has resulted in missing data sets and a lack of understanding, diagnosis and treatment of many gynecological conditions, as well as unwanted pharmaceutical side effects for non-gynecological diseases, delays in care, underdiagnoses or undertreatment.
However – be it by wearables, mobile apps, home testing devices or kits – this is beginning to change…
Discover the link between gender and effective therapy in medicine:
> Tracking to bridge the data gap: The gender data gap is a deadly one. Discover innovative ways companies are collecting gender specific medical data to close the gap and better understand female specific metrics through menstrual patterns, remote neonatal monitoring, and analysis of saliva for contraception and fertility.
> Innovative Screening + Symptom Monitoring: Disease can be mitigated when caught at the onset. A deep dive with companies focussed on STDs, post partum, cervical cancer and breast cancer who are bringing screening capabilities to the patient.
> Personalising contraception+fertility: The field of fertility and contraception have long been opaque and difficult to navigate. Medicine as a whole, however, is entering an era of personalization – explore in what ways personalized medicine holds the promise of revolutionizing female contraception and fertility.
> The Future of gynecological pain + symptom management: Examine technologies being put forth to treat the gynecological conditions that affect tens of millions of the world's women: from pre-empting menopausal symptoms, to tracking endometriosis, and treating symptoms with cannabinoids.
26-27 May Online /16:00-20:00CET
< To Register >
https://hopin.com/events/eth-zurich-femtech-summit
<To find out more>: www.femtechnology.org
> Explore cutting edge research, innovation and inventions from Start Ups and Academics in the field.
Join Researchers from:
> Charité Universitätsmedizin Berlin
> Oxford University
> Stanford University
> Université de Lausanne
> UniversitätsSpitalZürich
And Start ups like:
> Ava: FDA-cleared wearable tracking device to identify both the opening and closing of the fertile window.
> BloomLife: remote personalised maternal and fetal healthcare.
> Clue:tracking the menstrual cycle to better understand how the female body works – now an FDA approved form of contraception.
> Eli Health: an algorithm evaluating hormones in saliva to monitor the most fertile days.
> EndoDiag: developing new diagnostic solutions for endometriosis for healthcare professionals.
> Gynica: creating cannabis-based pharmacology for the female body.
> Haplomind: supporting perinatal depression and anxiety.
> Kheiron medical: using artificial intelligence to diagnose breast cancer
> Mobile ODT: using artificial intelligence for cervical screening, evaluation, and sexual assault forensics.
> Oui: making cervical mucus temporarily impenetrable to sperm.
> Syrona Health: personalising endometriosis care with insights and tracking.
> Testmate Health: at home STD kits.
> Apple Women's Health Study: the Harvard T.H. Chan School of Public Health has teamed up with Apple and the National Institute of Environmental Health Sciences (NIEHS) to gain a deeper understanding of how certain demographic and lifestyle factors could have an impact on menstrual cycles and gynecologic conditions.